Just when we thought Volvo couldn't get any better at purpose-driven marketing and general epic-(split)-ness, they killed it. Again. No pun intended, however, this article is all about car safety. So buckle up. Pun intended.
It started with a sponsored ad on Instagram, one that immediately caught my attention.  A beautiful animation and a message saying 'Be a man' pulled me in. A well-deserved click later, I was hooked.
You might also like: The Recruiting Car – Recruitment marketing and product marketing in sweet, sweet harmony
If you are inspired by purpose and beautiful campaigns, feast your eyes on their stunning but oh so important E.V.A. Initiative created by Forsman & Bodenfors, the agency behind the iconic 'Epic Split' campaign,
E.V.A. is short for Equal Vehicles for All and is the car manufacturer's way of both highlighting gender inequality in car safety across the board and addressing the issue head-on through stunning graphics, striking copy and data.
"When a woman steps into a car to drive, she assumes she's safe. Yet in 2019, most automakers still produce cars based exclusively on data from male crash test dummies. For this reason, women run a higher risk of getting injured in traffic than men. But not in a Volvo."
This cross-media campaign is based around real crash statistics that show that women, teenagers, and children are affected more by car accidents than the average male. The reason for this is pretty simple: Crash test dummies throughout history have been based on the anatomy of the male body, and hence, car safety features have been designed to protect men better than women and children.
"Some people are less safe on the road than others. That's why it's time to share more than 40 years of safety research – to make cars safer for everyone. Not just the average male."
At the same time, this initiative is an opportunity for Volvo to celebrate several groundbreaking life-saving safety features they have developed through the years, inventions that stem from a whopping 40 years of crash research and safety studies.
Volvo is making these studies public for all to, including the rest of the car industry, to read and download. All in the name of purpose and safety and all wrapped in a beautiful, user-centric website with an equally beautiful traffic-driving campaign across social channels.
In my humble opinion, what Volvo has achieved with the E.V.A. Initiative is the diamond standard in purpose-driven marketing.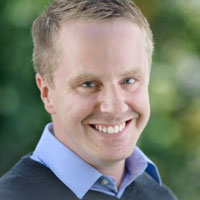 You've just read an article by Peter Helin. Now it's your turn! Leave your comments below.
Peter Helin is the co-founder of Digital Mic Drop as well as a multi-disciplinary marketer. Peter juggles most of the content that you'll find here on Digital Mic Drop and he is also helping Digital Mic Drop's enterprise clients to success through consultation on all things digital marketing, copywriting, content creation and SEO projects. Things like that.
If you would like to get in touch, simply shoot him an email on [email protected]