With their epic blue bag rip-off response to Balenciaga that made it to every blog and news outlet around the world faster than you can say "teeny-tiny allen key" fresh in mind, IKEA is back with another amazing flash marketing response.
And yes, it has landed them yet another gained media slam-dunk. This time they are literally going medieval on a piece of Game of Thrones trivia.
The trivia was dropped by Game of Thrones costume designer Michele Clapton during a lecture at the Getty Museum in Los Angeles - and it was no big deal really. If you have ever watched GoT, you have definitely seen the characters' fur winter wardrobes. Because in GoT, winter is seemingly always coming.
At some point during the lecture, Michele Clapton casually mentioned that some of the fur capes are made out of cheap cut up IKEA fake fur rugs, and the factoid was picked up by a BuzzFeed reporter.
So what did IKEA do with this Game of Thrones dragon egg of a marketing opportunity?
You guessed it. They made a manual. In no-time, IKEA Norway's marketing agency whipped up a classic IKEA manual on how to make your own GoT fur cape. This new 'product' was named 'Vinter skuldervarmer', which is Norwegian for 'Winter shoulder warmer'.
The manual was shared on IKEA's Norwegian Facebook page with the caption: 'Summer is almost over, winter is coming.' - a reference to the famous quote from the series. Needless to say, the manual is now everywhere on the internet. Once again - kudos, IKEA!
Without further ado - here's 'How to make your own Game of Thrones winter cape' manual: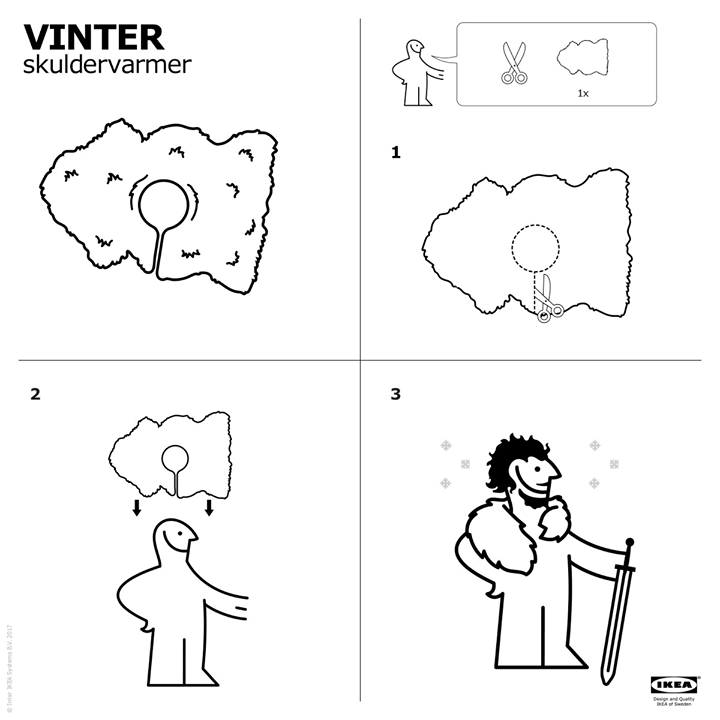 Can't get enough of IKEA?
You may also remember IKEA Norway from their moving awareness campaign '25 m2 of Syria' and that time when they offered retail therapy and relationship advice. Check it out!