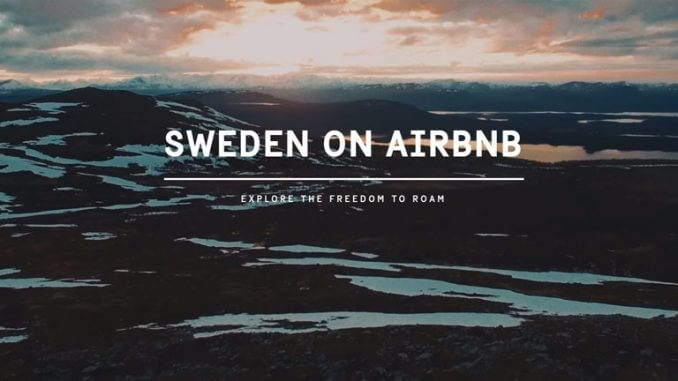 In destination marketing, standing out from the crowd with a unique offering is key. The competition is cut-throat and there are of course oodles and oodles of tourism destinations around the globe.
A while back, the Swedish capital, Stockholm, turned to magic and illusions to market themselves as a great place visit and to live. This summer, the Swedes are taking destination marketing to the next level. How?
By becoming the first ever country to be listed on Airbnb. In partnership with the property rental website, the Swedish tourism board, Visit Sweden, has launched a beautiful campaign to invite everyone to come and enjoy the Swedish nature and its 'freedom to roam'.
Destination marketing at its finest
'Allemansrätten' - or the freedom to roam -  is a Swedish principle which allows people to visit and camp anywhere in Sweden without booking accommodation and anyone is free to access and temporarily use public land.
The stunning 'Sweden on Airbnb' website is of course designed in classic Airbnb-style and has all the standard Airbnb trimmings like map features, property photos, and descriptions. On the page, Visit Sweden has listed some of the most scenic nature spots in Sweden and even included visitor reviews.
One of the properties, 'Cliff with Panoramic Ocean View', boasts:
"Enter this unique spot and be inspired. In Skuleskogen, you'll find one of the country's few remaining old-growth forests. Wake up to the view of mysterious lakes and neighboring valleys, go explore the combination of barren rocky areas and majestic mountain views. There's no better place to roam free."
According to the property listing, this particular 'property' accommodates anyone, has bathrooms everywhere, unlimited beds, available whenever and is family/kid friendly with real air conditioning. The house rules state:
"Our only ask is that you're being mindful of the nature and neighbors – just like in any other home. The things you leave behind are your footsteps, and the things you take with you are memories."
But wait, there's more
Even though the Airbnb listings have been getting a lot of attention, this is only a small part of the campaign. Visit Sweden's own website is filled to the brim with videos, rich media and testimonials which help interested readers get an idea of what Sweden has to offer and what there is do and explore in the Swedish nature.
Our favorite is the 'Get curious - Explore the forest through child eyes' video. Very heartwarming:
Beautiful campaign, Visit Sweden! We are proud to call Sweden our home!