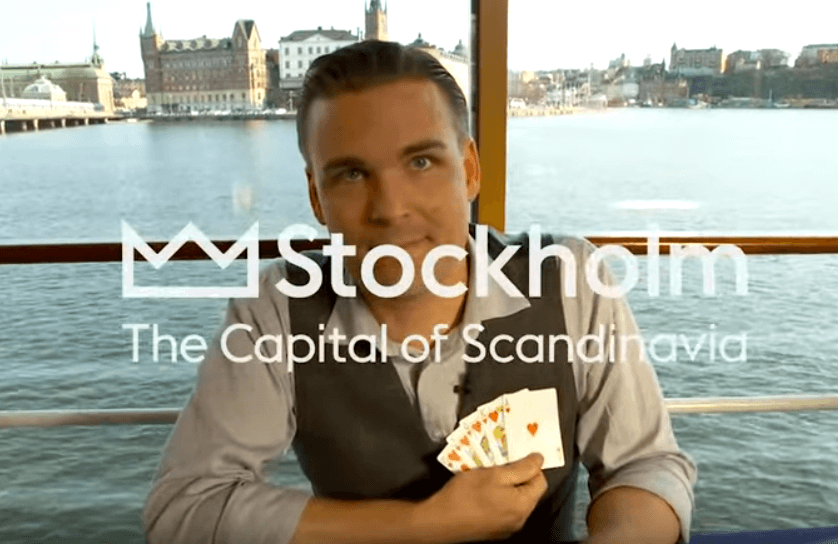 It's June 6th, Sweden Day. Since Stockholm, Sweden is our base here at Digital Mic Drop, we thought we'd celebrate with a round-up of some of the brilliant Swedish marketing campaigns that have come out of Sweden or Swedish companies:
First up: That time when Stockholm City turned to magic and illusions
We'll kick things off with the capital of Sweden, Stockholm, and their ingenious way of marketing the 'The Capital of Scandinavia': With magic and illusions perfectly executed by illusionist Charlie Caper!
Spotify used their user data as outdoor advertising
Speaking of Stockholm; many great companies have been born and raised in Stockholm. Music streaming giant Spotify for example. The Spotify marketing team pulled out all the stops when they launched their massive user-data-driven outdoor advertising campaign.
The Great Trump Escape… to Stockholm
A few blocks away from the Spotify HQ, you'll find advertising agency Round & Round, the agency that created the timely, tongue in cheek 'The Great Trump Escape' recruitment marketing stunt around the time of the US Presidential election.
Speaking of Trump, let's not forget to trump Trump's tweets!
Swedish startup Shortcut Labs created a version of their Flic Bluetooth button that can trump Donald Trump's crazy tweeting rants. By the press of a button, you can tweet 'WRONG!' and tag Donald Trump's own Twitter handle. What we love the most about this real-time marketing campaign is the hilariously witty copywriting.
Unexpected Shopping at Stockholm Central Station
If instead, you would walk in the other direction from the Spotify HQ, you would eventually end up at the Stockholm Central Station.
Had you visited the city a few months ago, you could have found yourself smack in the middle of Mall of Scandinavia's brand activation campaign 'Unexpected Shopping'. The campaign featured a large mystery mirror box that eventually opened up and invited people to a silent disco with electro-pop duo Rebecca & Fiona. Creative!
A Swedish marketing round-up would not be complete without IKEA
As we sum up brilliant marketing campaigns from Sweden or from Swedish companies, let's not forget our flat-packed blue and yellow friends at IKEA. The marketing team at IKEA have created a number of incredible marketing campaigns that have gone viral across the globe:
Remember the luxury Balenciaga bag that looked like a carbon copy of IKEA's cheapo carry bag?  Yeah, IKEA definitely didn't let that one slip.
They also knocked it out of the park with their beautiful and equally heartwrenching and heartwarming 25m2 of Syria refugee campaign.
IKEA even ventured into the unknown world of relationship saving with their creative 'Retail therapy' campaign. Speaking of relationships: Around Valentine's Day each year, IKEA's take on Valentine's cards usually starts to surface on the internet.
Absolut and Andy Warhol
One of Sweden's oldest brands is the Absolut brand. Absolut are well known for producing stunning marketing campaigns and advertising, often in partnership with both new and established artists, and they also happen to hold the record for the world's longest running advertising campaign.
The entire country listed on Airbnb
Last but by no means least in our round-up of Swedish marketing on Sweden Day; let's not forget the most recent stroke of marketing brilliance that has come out of Sweden: Visit Sweden's destination marketing campaign where they listed the entire country on Airbnb.
Happy Sweden Day, Swedes!