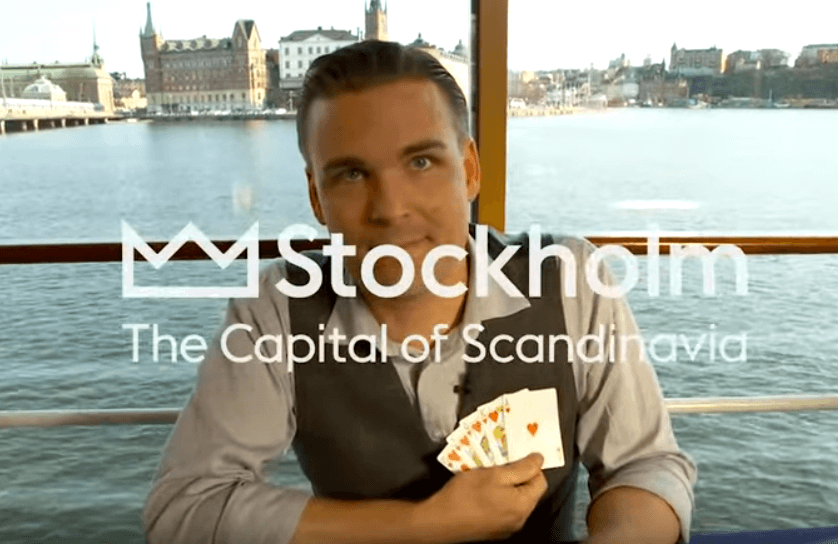 As Stockholm, Sweden is our hometown here at Digitalmicdrop.com, we are often bedazzled by everything our city has to offer. This bustling capital city has an incredible spectrum of unique offerings ranging from impressive art, culture, and entertainment scene to world-leading quality of life for families, best-in-class environment and it is also the perfect breeding ground for startups like Skype, Spotify, and Mojang. Much like a Penn & Teller show, the world looks at Stockholm and Sweden and wonder: How do they do it?
Marketing The Capital of Scandinavia through magic and illusions
The City of Stockholm took that sense of wonder and amazement and turned it into brilliant marketing when they asked award-winning illusionist Charlie Caper to help them squeeze every drop of marketing juice from all the great things the city has to offer and promote Stockholm through a series of entertaining and informative YouTube videos.
In the video below, Charlie uses good 'ol card tricks and just a few small props to dazzle his viewers and at the same time, dish out over 25 unique selling points about Stockholm and Sweden in under 4 minutes. The clip has been viewed over 670,000 times:
In this next clip, Charlie and his assistant have gone from analog to digital props in their storytelling - the deck of cards has been replaced with iPads – and rightly so, as they are selling Stockholm as a technology and innovation hub and a great place to launch a business. The clip has been viewed over 3,4 million times:
In their last video presentation about Stockholm, Charlie and his assistant are going analog again – their props are now cutouts and dioramas – and the storytelling about the quality of life in Stockholm is yet again spot on and very informative. About 25 interesting facts in a 4,5-minute video:
Nicely done, Stockholm City! If we weren't already living here, we'd move in a heartbeat!