The new 'gig economy' trend is here. More and more professionals in Europe and North America are choosing to become self-employed or run freelance businesses outside of their day job.
This new development has created a never-before-seen surge in self-promotion activities in social networks and professionals are spending both time and money on building their personal brand in order to market themselves as subject matter experts, public speakers, and influencers.
On LinkedIn you'll find countless threads, discussions, and opinions on hot topics like personal branding, social selling and how to increase your LinkedIn Social Selling Index (SSI), so we wanted to find out:
Is a professional headshot photo important in personal branding?
How important is it to have a professional headshot when building your personal brand? Is it really a big deal and what's wrong with just using a professional-looking smartphone selfie?
We reached out to Andy Foster, professional headshot photographer and personal branding advocate, to get his take on this.
"By not having a professional photo, you are most likely hurting your personal brand."
This is Andy Foster:
UK native Andy Foster is an award winning professional photographer based in Stockholm, Sweden. Andy has chosen to specialize in headshot photography in his studio Studio Fotos and is highly sought-after by business professionals looking for professional LinkedIn profile photos to strengthen their personal brand as well as actors and entertainment professionals looking for portfolio headshots.
Andy's extensive expertise in the field of headshot photography has also awarded him an Associate title as well as a mentor role in the world's largest team of headshot and portrait photographers, Headshot Crew, founded by headshot master photographer Peter Hurley.
Hi Andy, and thank you for sharing your expertise with us!
"Hi there, Digital Mic Drop! I am a Digital Mic Drop fan and I also love to talk about all things photography and personal branding, so I am really happy to be here!"
In personal branding, on LinkedIn for example, how important is the profile photo really?
"As a headshot photographer I am obviously going to say that the profile photo is the most important thing, but let me explain why.
The headshot is the thing that stands out amongst all the text and often the first thing that people notice on a profile page or in a search result. In my opinion, having no profile picture says that you either consider yourself too important to need one or that you didn't consider it worthwhile, meaning you have probably missed the point of what makes a good profile on LinkedIn. As a result, your personal branding efforts will most likely suffer.
Using a bad headshot on the other hand, and there are lots of them out there, says to me that you didn't really care and that you only included one because you had read somewhere that it helps your chances. Unfortunately, by not giving it any thought, you are taking a professional social network and using an amateur photo on your otherwise excellent professional resume.
Consider this: Before you post an important article or LinkedIn update, you or someone else you trust would proof read it first. Someone with a sharp eye for detail.
Do you do the same with your headshot photo on LinkedIn? Do you ask someone else if they believe it matches the quality of your profile/resume or do you just decide for yourself?
With images we are often emotionally involved in the image, having someone else give their opinion is my tip. If your headshot doesn't add to the quality of your excellent profile, then go and see someone who can help you out.
It's not just about the head shot though, it's the whole package really. A great professional headshot with a poorly written profile will also only get you so far, i.e. someone looking at your profile and then hitting the back button. A professional headshot backed up by a well-composed profile is obviously the aim and will most likely take your personal branding the whole nine yards."
"Your profile picture should be current, not five years old."
You are specialized in headshot photography. What are your top tips for an impactful profile picture?
"Three things: Confidence, Approachability, and what Peter Hurley calls 'Look-ability'.
A headshot, or profile picture, should show your head and shoulders, you should be looking at the camera, giving the viewer the feeling that you are looking directly at them.
It is also important to eliminate as many distractions as possible in the background. A plain white, gray or black background or an out of focus background, if environmental, works best.
Jewelry should preferably be kept to a minimum, the headshot is about you, not your accessories.
Another very important thing to keep in mind is that your profile picture should be current, not five years old.
Looking like your headshot breeds trust, when you meet someone in real life and you don't, then they may wonder what else about your resume is false.
Last but not least: Expression trumps everything, so if the photographer can capture a great expression from you, then that's the money shot."
What about asking a friend to take a photo with a phone camera or a 'real' camera? Isn't that good enough?
"Ok, let's break this down because this is important.
First of all, a phone camera is equipped with a wide angle lens. That is not going to be flattering for you and therefore not flattering for your headshot.
Secondly, the lighting is always key for a good photo. If you know lighting, and by that, I mean using daylight to your advantage in your photo, then you can achieve a nice shot with a phone camera but there are a lot of elements to it.
A 'real' camera, will help, but it is the photographer that takes the shot, not the camera, so in the wrong hands, you will get poor results.
Even a good photographer who has expertise in wedding photography, family, newborn or landscape photography who knows their way around a camera will struggle to get a good headshot photograph if they haven't been trained in the art of it."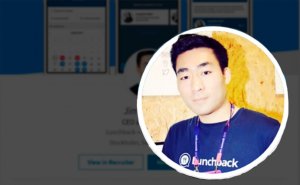 What about editing and manipulating the headshot with things like filters or teeth whitening? Yes or no?
"Filters are just wrong, really wrong. When you add a filter, like LinkedIn is currently offering, it deteriorates the photo. If you try to make a bad photo better with a filter, you are on to a loser. In other words: Crap in, crap out.
Also, if you have a professional photo that you then choose add filters to, not only will you annoy the photographer, but you have undone the work he or she did to ensure you got the best shot.
A little teeth whitening is ok in my book, but it must be subtle. It's easy to tell someone to go and get their teeth whitened so why not help them out a little when retouching.
I have had a few male clients who have chosen to wear a little bit of makeup, but on the whole, it is mostly recommended for women."
Can a professional photo really generate leads and drive sales?
"Asking me what the ROI on getting a headshot done is something I have had to field a few times. I am not going to state that investing in a professional photo is going to change your world and generate tons of leads and drive sales, but by not having a professional photo, you are most likely hurting your personal brand, regardless of what field you are in.
From a business perspective, as I mentioned earlier, the photo should match the professional impression you are trying to convey with the rest of your profile.
For companies, where so much of the first knowledge we find out online, having professional photos of the board or key employees say a lot about the company.
Having them all done by the same photographer rather than inviting your employees to send in their own photos ticks even more boxes. It creates continuity and gives potential clients a level of trust.
I have learned everything there is to know about headshot photography from the master Peter Hurley. He has been ripping it up in headshot land for years and it's only recently in the last 18 months that people have been waking up to the power of having a great headshot.
Those that smell the roses and get it done now are gaining a competitive advantage by taking charge of their digital profiles and their own personal brand."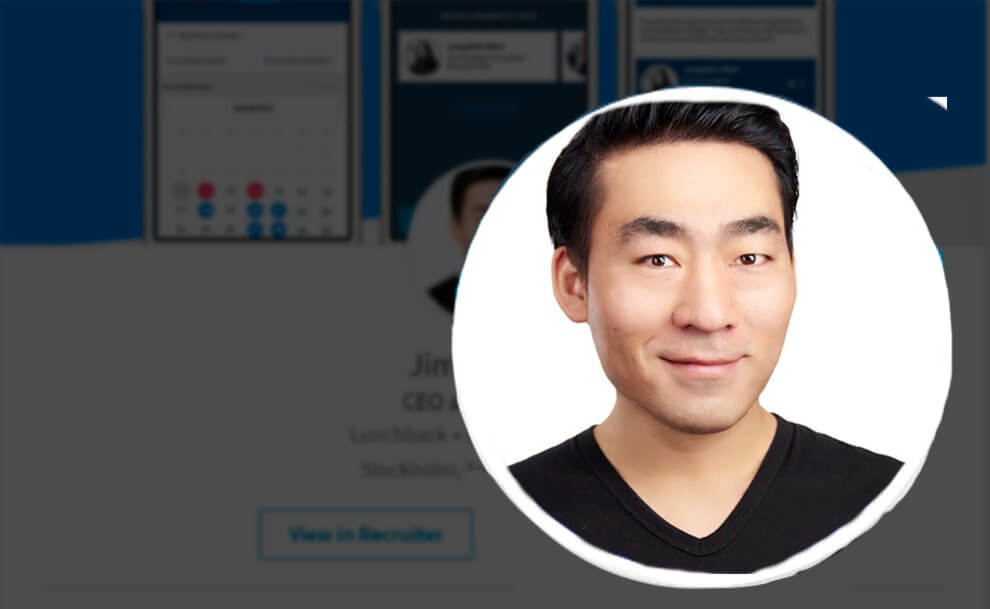 Your studio, Studio Fotos, also offers something called 'cinematic photography'. What's that?
"Every spring and summer I add the Cinematic headshot genre to my product offering. I take my equipment, including studio lights, outside and use the environment as the background. The result is a blurred and out of focus background using a special technique championed by Dylan Patrick, a photographer based in Los Angeles.
My Cinematic headshot photos became a success and back in 2015, I ended up doing an exhibition of around 50 of my headshots in my previous studio. The shots from the exhibition can be seen by visiting www.cinematicheadshots.se. The video reel has had over 10,000 hits on YouTube."
What about the photographer? How do you pick the 'right' photographer for your headshot?
"It's important that you like the photographers work for a start. Check their website and Instagram. Some photographers specialize in headshots and some do a wide range of photography. Headshot photography as a genre has its success weighted on getting genuine and interesting expressions from you.
By going to see a professional then you can take it for granted that the photographer knows their lighting whether in the studio or natural light. So look for consistency in the photographer's work.
A photographer will always show off their very best work so reviews and testimonials on their website or Google are very important. Don't make your final decision purely on price. You are investing in your personal brand, YOU.
You may use your profile image for 2 years or more so long after the price is forgotten the quality remains."
How much should a professional headshot cost?
"The cost usually depends on a few factors. An individual drop in studio shoot can start at around 120 euro/140 USD, with extra cost if you need a retouch. More time in the studio means we can do different looks, clothing changes and background (plus of course the cinematic look).
For on location group personnel shoots the cost is usually around 50 euro/60 USD per person, based on a minimum number of people (10 in my case), plus any retouching.
For retouching, I only recommend if you are going to use your headshot image for print, e.g. in a book, magazine or newspaper or you are giving talks.
For LinkedIn, the resolution and size of the image mean that many perceived flaws are not seen, so if the lighting and exposure of the image is good then it is ready to go for LinkedIn."
You have snapped headshots for all of us at Digital Mic Drop and we loved the experience. Can you tell us about your process?
"My process is based on a few key elements. First, I need to work out what your best side and angle is, then coach you by going through a systematic checklist of sorts on key areas I regard as important to the headshot: Eyes, mouth and eye brows being parts of the face that make up the expression.
I won't ask you to smile, but I use distractions to stop you from focusing on thinking how you should be looking when in front of the camera.
Coaching is an important part of my process and whether you are an experienced model or an absolute nervous wreck in front of the camera, I go through the same process and it always works great."
Andy's preparation checklist before your next headshot photo shoot: 
Clothes: Solid tones (pastel, white, black or gray), no patterns or stripes or fancy logos
Makeup for ladies: Either we get a professional in, or you do it yourself, but light makeup is the key and the makeup should also not be moist.
Hair: My best advice is to wear it as you would at an interview or meeting, don't get it cut or colored a few days before your shoot. Make it at least a week before.
Glasses: If you wear them daily then we shoot with them on, if you wear them just for reading then we'll leave them out. If you have glasses with anti-reflex glass then your photographer will thank you!
Smiling: Small smiles are usually more attractive than big ones. When we smile big, the entire face changes. Small smiles equals more control.
Teeth: Teeth are fine in headshots, but not gums.
Thank you very much, Andy!

To find out more about Andy and how he can help you improve your personal branding through a great profile photo, find him on LinkedIn, check out his website or email him on [email protected]