Digital Mic Drop has been in a bit of a hiatus state over the past 9 months. That's a long time for a blog not to be updated. Babies have been both made and born in that time.
But, the good news is: I, Peter, your friendly neighborhood marketing blogger, am back. Find out what happened during the hiatus and how Volvo's purpose-based marketing inspired me to get back on the blog horse again.
Let's get right to it: What happened?
Well, to start off, the record-breakingly awesome Swedish summer of 2018 happened. Well, that, and so many other things. One of the big things that happened was a job change. Out of the blue, I was offered the opportunity to join a startup as their Head of Marketing. And, with that comes a learning and ramp-up period over a bunch of months.
The company is a so-called RecTech company that builds tech within AI-based, unbiased recruitment and value-based candidate matching. The mission is to help people thrive at work and give more people tools to highlight their potential to future employers and a greater chance to succeed in recruitment processes.
A very noble mission in this day and age where bias and right-wing, alt-right movements are getting louder and louder. And my background in recruitment marketing fits like a glove.
After over a decade with my day-job employer, it was time for something else. Something new. It was time to do something that matters. Our planet and global society are on a less-than-great trajectory right now and I feel we all need to play a part in making it better (deep, I know).
Inspired by the likes of Greta Thunberg, I hope that my years of industry experience will empower me to make a small difference.
That was a very long-winded way of justifying my blog radio silence with a lack of time. But there you go.
I haven't sat completely idle over the past nine months though. I've worked, I've built things, I've learned and I've traveled.
In fact, I traveled to San Francisco recently. A short TV-show on the inflight entertainment system consumed one early morning 32,000 feet over Greenland made quite the impact on me.
I thought I'd share my high-altitude dose of inspiration with you and maybe it will inspire you too.
Volvo's Björn Annwall on purpose-based marketing and organizations
This show was CNBC's show 'Marketing Media Money' and it featured Björn Annwall, Senior Vice President Strategy, Brand & Retail at Volvo Cars. Björn was interviewed about Volvo's transition from 'safe, reliable and boring product sales' to a very much purpose-driven organization.
"We are a brand for people who care about other people", Björn said and continued to talk about how they've purposely designed and positioned their Premium line of cars to be elegant, refined – and understated.  
He then moved on to state that "Marketing cannot be about making stories. It has to be genuine and real. You have to actually do change, not say you are changing." – and this really hit home with me.
Their long-standing Volvo Ocean Race sponsorship could have easily just been just that, a big-budget corporate sponsorship, but they turned it into something so much bigger.
Putting their money where their mouth is
"Rather than just shouting out the Volvo name in conjunction with a race like that, we make something meaningful of it."
It's a known fact that Volvo has spent tremendous effort on sustainability in their cars. Björn addresses the issue with micro-plastics in the ocean – and how Volvo is dedicated to using recycled plastic from the ocean in their cars.
Björn proceeds to talk about Volvo as a purpose-based organization, not just a purpose-based marketing department, and the passion and strength that they are able to draw from as an organization with a higher purpose.
I found this segment incredibly inspiring and just the kick in the tail that I needed to get back on the blog horse. Hopefully, I will also be able to share more inspirational purpose-led marketing initiatives and campaigns soon.
Watch the interview here: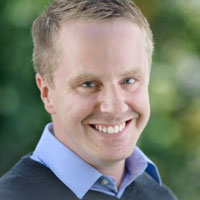 You've just read an article by Peter Helin. Now it's your turn! Leave your comments below.
Peter Helin is the co-founder of Digital Mic Drop as well as a multi-disciplinary marketer. Peter juggles most of the content that you'll find here on Digital Mic Drop and he is also helping Digital Mic Drop's enterprise clients to success through consultation on all things digital marketing, copywriting, content creation and SEO projects. Things like that.
If you would like to get in touch, simply shoot him an email on [email protected]