In 2016 Volvo stole the Super Bowl by hijacking the competitors' advertising and media coverage. This year, they turned a major car show in Brussels into a job fair and managed to snag most of the media coverage from the show. How? With a recruiting car, that's how. Creative recruitment marketing at its very best.
During the prestigious car show, Volvo revealed a car that could recruit its own technician with the help of AI, aptly named the HR90 instead of V90.
In the weeks leading up to the show, the car manufacturer announced on social media that they were hiring 200 technicians to their plant in Ghent, Brussels. Applicants were invited to the show.
With the help of artificial intelligence combined with the car's own onboard technology, they could test both technical and social skills as well as conduct unbiased evaluations of candidates. The candidates were then sent on by the car to Volvo's HR department for selection.
You might also like: Spotify's job ad fit for a President and HR + Marketing + Collaboration = Recruitment Marketing Squared
This creative approach earned Volvo about 70 percent of the news coverage from the car show and reached no less than one in two Belgians. The ROI for the campaign went through the roof: A 300% increase in price requests for Volvo cars and all the 200 job openings were filled. Recruitment marketing and product marketing in sweet, sweet harmony.
I repeat: By a car. That recruits without bias. With AI and testing.
Mic drop.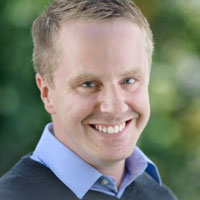 You've just read an article by Peter Helin. Now it's your turn! Leave your comments below.
Peter Helin is the co-founder of Digital Mic Drop as well as a multi-disciplinary marketer. Peter juggles most of the content that you'll find here on Digital Mic Drop and he is also helping Digital Mic Drop's enterprise clients to success through consultation on all things digital marketing, copywriting, content creation and SEO projects. Things like that.
If you would like to get in touch, simply shoot him an email on [email protected]