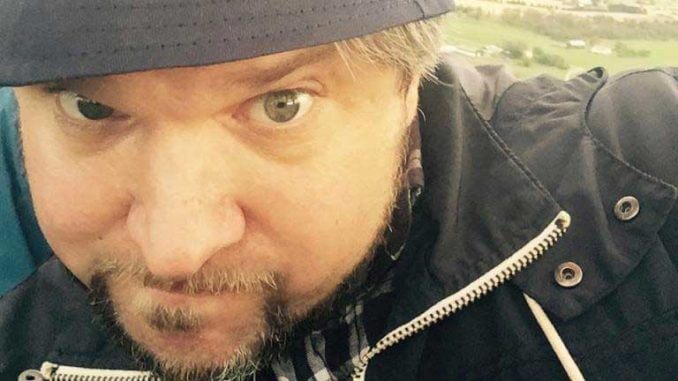 When it comes to drumming up social media engagement, there are a few routes you can go down. You can provide your readers with like-friendly/valuable/funny content that will generate organic engagement (unpaid likes, shares, and comments). You can also fuel your engagement levels by sponsoring your content, which is a surefire way of getting you likes – but obviously at a cost and not necessarily from your desired target audience.
But then there's the third rail. A powerful, but at the same time, more daring approach to social media engagement. It can be debated if this unconventional third rail is kosher and 'white hat', but it seems to do the job.
We wanted to find out more, so we met with Bobbo Sundgren, the inventor of 'Talktrigging' to get the inside scoop. Bobbo is a PR and marketing expert who has turned his years of trolling on the internet into a powerful marketing concept.

Hi Bobbo!
We are intrigued to hear more about Talktrigging, but first of all, who are you?
Hi Digital Mic Drop! Let's start from the beginning. Ever since I was a child I have been interested in the concept of influence. I used to observe and study auctioneers, priests, actors and clowns. In 2006 I realized that I had a knack for prolonging debates on internet forums and blogs and this realization consumed me. I became an 'elite troll'.
"My online reputation was so dented from my years of trolling"
Two years later I found myself working as a door-to-door security alarm salesman, despite my Master's in Ethnology and experience from an internship at an advertising agency, as my online reputation was so dented from my years of trolling. I realized that something had to change. I started with changing my name in order to give a career within digital marketing a fighting chance.
After that, my 'luck' turned and I was employable in my field again. I worked for several sales companies where I sold various digital marketing products; however, I soon realized that the products I was selling were far from as good as I made them out to be. That bothered me, so I started my own company where I sold corporate pages on Facebook. At that point, I hadn't entertained the idea that my 'elite trolling' could be honed into a safe marketing method.
Talktrigging and stepping into the light as a troll
In 2015 I decided to 'step out of the closet' and into the light as a troll, but instead of being purely authentic, I carefully dipped my toes by mixing humor and gravity. However; I soon realized that I could dare to be more vocal, stand up for things and still spark engagement through expression and well-planned rebuttals. My wheels were spinning and I couldn't let go of the thought that I should be able to distil my skills and create a method for triggering engagement on social media.
My method is now ready and I have chosen to call it 'Talktrigging'. I actually already have a strong case study with quite impressive data, which proves that my team can market pretty much any everyday product or service and give it great exposure just by sharing a post in a group and then coordinate the talktrigging in a secret messenger-chat.
The end goal for the talktrigging is to keep the post alive as long as possible – and hence, give it as much visibility as possible through coordinated and well-planned commenting.
"We'd like to think that it's like a well-executed covert operation"
One aspect that is very important to both my team and I is the protection of our clients' integrity. In the public eye, there is no connection whatsoever between us and our clients. We also only post comments that we can stand for and that also adhere to the terms of use for the social media we are talktrigging on.
To pull a project off the team needs a great sense of immediate presence, urgency and clear communication among us. We'd like to think that it's like a well-executed covert operation, but what the public sees is just an ongoing online debate between a group of random people.
Tell us more, what is 'talktrigging' and how does it work?
Talktrigging is basically content that becomes somewhat bothersome for the reader, which then sparks the reader to react and want to respond or find out more, often through commenting on social media posts.
There are a few psychological main tracks in the method:
Play ignorant or uninformed: It triggers things like disrespectful comments.
Accuse and criticize without nuance: It triggers the reader's need to defend themselves.
Be a bit too private: It triggers curiosity.
Share opinions that are a bit taboo with a bland but friendly tone: It triggers the reader's need to punish you for failure to adapt to norms.
Make yourself a victim: Some people will defend you and some people will come at you with even more force.
Be a know-it-all and correct words and facts: Most people hate that.
Share believable gossip.
Insinuate that you have valuable or interesting secrets.
Shower someone who does not usually get a lot of appreciation in praise.
What sparked your interest in this area?
Honestly, I think it was from my father who was an artist and my mother who was an art teacher. Through them, I have always had a passion for art, literature, cartoons and movies. My father was mentally ill and therefore my mother had to pull a lot of the weight at home. It was hard for my father to resolve conflicts between me and my brothers, he was too tired from his medication. So in order to protect myself from my older brother, I became a master of diversion, jokes, teasing and acting.
My insights within marketing have mostly been gained through my sales roles and I also took a copywriting course as well as courses in 'Commedia del Arte' and counseling skills. I also studied conflict management as a part of my Master's degree. Gradually I have come to realize that my talent for trolling and sales can be merged into a legit model for digital PR – a model that I chose to call talktrigging.
How can talktrigging help a company's PR and marketing?
In my opinion, talktrigging in some form will become absolutely necessary for any company with a small to medium marketing budget. Influencers are expensive and using an influencer is only a good option if the influencer is popular enough. To thread on in existing tracks is, as many marketers and media buyers know, is a lottery, to say the least.
Talktrigging may not always attract the exact desired target audience, but it will definitely generate more organic views and shares. That, in turn, will generate the critical mass of exposure what will eventually reach the target audience, both publicly on social media but also through 'dark social', which includes SMS, private messages, and emails.
My team once managed to get a TV celebrity with a large following to share our content out of pure rage - and this celebrity also encouraged his followers to repost it, which generated 270 shares. Our content reached between 12,000-15,000 people – within our desired target audience – in a day! On another occasion, we helped a client share some pretty generic content in a group and the content reached 2,800 people in a day whilst still following all of the rules of engagement.
This reach was achieved just through talktrigging, no sponsored content, no influencers and no link exchanges etc.
Intriguing! What can some of the downsides be?
Well, it is hard work to ensure that the team doesn't overstep boundaries, but so far we have been ok. People can get angry and want to take out revenge in unproportioned ways but the fact is that people who are very vocal and aggravated on the internet, rarely are dangerous.
Can anyone work with talktrigging or do you need a particular background?
I think you need to be quite 'special' to do this kind of work. You need to have a strong desire to push people's buttons, but still make sure you stay balanced so that that urge doesn't take over to the extent that you lose the discipline and inspiration needed to keep the conversation going.
As a practitioner, you should see this as a military operation, a living work of art and something joyful. You also need to be very good at precise, powerful writing within the role, or persona, you have taken on – and you need to be fast!
Can you tell us about some of your achievements within talktrigging?
Let me answer that question from a slightly different angle. One of my talktrigging achievement was that I actually helped propel my own career. At one point 'declared war' against the Swedish advertising industry on LinkedIn, which sparked interest with some influential people. This resulted in me getting headhunted to a brand specialist role with one of Northern Europe's hottest digital marketing startups.
Now I am focusing 100% on my own talktrigging business. The results from our first case look very promising and I want to make sure we prove the security and the legitimacy of the method.
Thank you, Bobbo and the best of luck with your talktrigging!