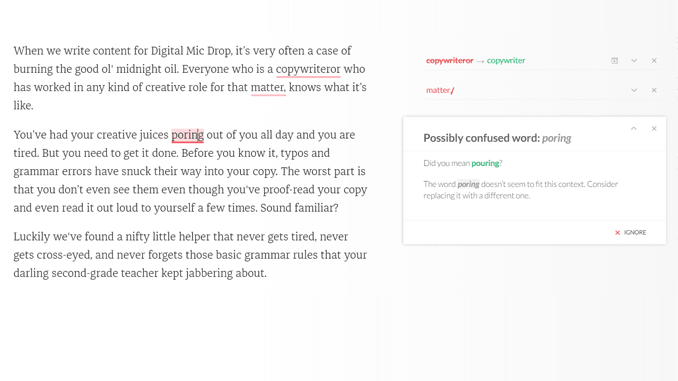 When we write content for Digital Mic Drop, it's very often a case of burning the good ol' midnight oil. Everyone who is a copywriter, or anyone who has worked in any kind of creative role for that matter, knows what it's like.
You've had your creative juices pouring out of you all day and you are tired. But you need to get it done. Before you know it, typos and grammar errors have snuck their way into your copy. You proof-read your copy a few times and even read it out loud to yourself, but you still manage to miss a few errors. Sound familiar?
Luckily, we've found a nifty little helper that never gets tired, never gets cross-eyed, and never forgets those basic grammar rules that your darling second-grade teacher kept jabbering about.
It's called Grammarly and it is awesome
Grammarly's free chrome plugin is installed in a jiffy and instantly starts scanning your writing online for spelling and grammar mistakes as well as contextual spelling errors. The AI-powered spell checker detects over 250 common grammar mistakes and poor use of vocabulary.
The technology behind the curtains even allows for detecting correctly spelled words used in the wrong context. That in itself actually makes Grammarly more powerful than the MS Word spellchecker. Pretty cool, huh?
Grammarly Premium
For $11.66 USD per month (annual plan) you can upgrade to a Premium version of the tool. This takes the usability to a whole other level. All of the sudden, all your offline writing will get checked and you'll get access to what Grammarly calls 'context-optimized word choice suggestions'.
The tool will help you identify inappropriate colloquialisms, issues with punctuation, improper formatting, and sentences that are too wordy. Basically, really cool AI tech that helps you expand your vocabulary and build more impactful sentences.
Built-in plagiarism checker
As if all of the above wasn't enough functionality for 11 bucks a month, Grammarly also has a plagiarism checker under the hood. This feature is, of course, brilliant for those of us who work with content for SEO and/or regularly buy content from external copywriters.
Is Grammarly every copywriter's dream come true?
We'd like to think so. Regardless of if we crunch out some late night blog posts, write job ads, tweet or write emails, it seems like Grammarly's got us covered. Having that extra layer of quality control is great and even the free Chrome plugin offers a lot of value. For writers who want to take their writing to the next level, upgrade to Premium is well worth it.
Over here at Digital Mic Drop, we are still enjoying the free Grammarly plugin, but there's definitely no going back from this. Upgrade time!