Iconic vodka brand Absolut has managed to rock their brand marketing campaigns for over three decades. But no one is born an icon, so how did they do it?
The answer: Their bottle. With a bit of help from none other than world renowned artist Andy Warhol, Absolut made their now highly recognizable apothecary-shaped bottle the star of the show and it has since been the focal point for many of their most memorable ads and marketing campaigns.
Andy Warhol
Back in 1979, the Swedish spirit brand was trying to break into the United States marketplace, the most competitive marketplace in the world. Despite being a well-known household name back in its home country of Sweden, the Absolut brand was still completely unknown across the pond.
This, of course, posed a major challenge for the US general agent Carillon Importers Ltd. who had taken on the challenge of introducing the spirit to the American people. The company's President Michael Roux, who was an art aficionado, met with his longtime friend legendary artist Andy Warhol to discuss advertising for Absolut and as it turned out, their common interest in the arts would put Absolut on the map in the US from there on.
'Absolut Warhol'
Warhol was commissioned to do a painting of the Absolut bottle. The painting was used in what would be known as the 'Absolut Warhol' ads and became an instant success. The Absolut ads helped springboard Absolut's brand from unknown in 1979 to the leading imported vodka brand in the US in 1985 and Absolut made their way into the Top 100 most sold spirits in the world the same year.
On the back of their recent success, Michael Roux encouraged Warhol to recommend other artists that could paint the bottle and over the years, no less than 350 artists have created artworks that depict the bottle's shape in different settings. The Absolut ads became hugely successful and vital for Absolut's brand marketing and at the same time, an important springboard for many up and coming artists.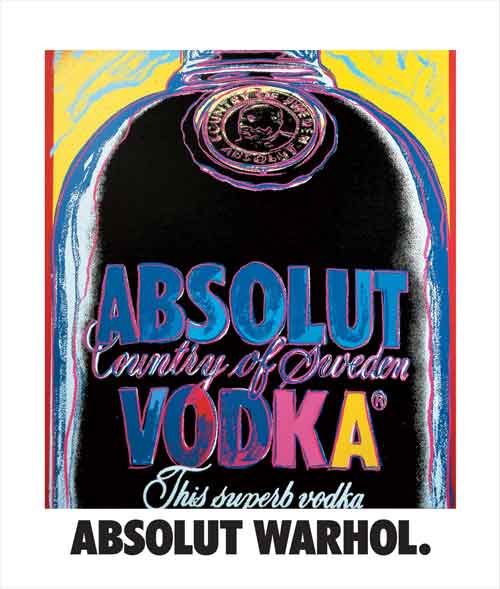 The result: The longest running ad campaign of all times
When their now legendary 'bottles in the wild' campaigns were first launched in 1985, Absolut and Carillon only held a few percent of the market share for imported vodka in the U.S. When it ended around the year 2000, Absolut's brand marketing campaigns had hit home run after home run and the company now sold about 5 million cases per year in the US alone. That equated to half of all imported vodka in the U.S. at the time.
The 25-year uninterrupted campaign, consisting of a total of no less than 1,500 unique ads, is the world's longest running ad campaign of all times. In 2010, Absolut sold 99 million liters of vodka worldwide and is now the fourth largest spirit brand in the world.
And it all started with a painting of a glass bottle.
A small selection of the ads
There are many, many brilliant and and absolutely stunning Absolut ads out there. We borrowed a few from absolutad.com for your enjoyment: