Digital Mic Drop is all about highlighting incredible campaigns and this one campaign aimed at helping refugee children struck such a chord with us that we reached out to the creator to find out more and help.
This interview with Imad Elabdala, a Syrian refugee, who has launched what could be the most important Kickstarter campaign of 2016 is an equally heart-wrenching and heart-warming story.
Imad is crowdfunding his children's book 'Sarah's Journey' through Kickstarter – but this is not just any old children's book – this is a children's book specifically aimed at helping children affected by war make some kind of sense of the many horrors they have gone through in their young lives.
Hello, Imad!
First of all, we are truly inspired and moved by your book project. Can you tell us a little bit about your background?
"It's complicated. I am an engineer by trade and I used to have my own engineering company in Homs, Syria when the revolution started. Many people were getting killed in the streets of Homs by the regime. Innocent people, massacred. I decided to take my camera and start reporting on what was happening. I was reporting from the war for about two years and during that time, I lost a lot of family and friends. The city of Homs doesn't even exist anymore", Imad says.
When Imad speaks about the atrocious scenes he has witnessed you can hear a hint of sadness and a lot of self-control in his voice. You can tell that the memories are fresh in his mind.
"As I am an activist, my family and I were in danger"
"As I am an activist, my family and I were in danger so I made sure to get them out of Syria one by one and, once everyone was safe, I got myself out. Eventually I ended up in Greece and from there I moved to Sweden", Imad continues.
He then tells us that made sure to learn Swedish quickly and with his background in engineering he secured a good job at a well-known Swedish industrial company.
"On the surface it looked like I was living the perfect Swedish life, but on the inside I was hurting. I couldn't forget the horrible things I had experienced. I tried various therapeutic ways of coping and I found that by doing research, I could slowly heal myself. At the same time I couldn't stop thinking; what about all those kids, a whole generation of children that are completely devastated by war? Who is helping them?"
For those of us in countries that have been spared from war, it is difficult to even imagine all this. Can you tell us about how the idea for the project came about?
"The things that many of these children have experienced are unimaginable and they could really use the help of professional psychologists. Employing psychologists to help every child affected by war is of course virtually impossible so I wanted to find a sustainable, affordable option that could help as many children as possible around the world as quickly as possible."
"Every child has felt the wind blowing through their hair,
every child has seen the sun rise and set."
"I had a rough idea of the solution I wanted to create so I started searching for metaphors that could appeal to children of many nations, because face it, we are all different in some ways. Different cultures, different languages, different religions. But, in many ways we are also exactly the same. Every child has felt the wind blowing through their hair, every child has seen the sun rise and set."
An ambitious learning road trip around Europe
Imad was certain that he wanted to pursue this project and he also know that this was the time to do it. He was about to turn 30 and his contract with his employer was soon coming to an end – it was now or never. He put his new Swedish career on hold and started studying exposure therapies in safe environments. At the same time he bought a cheap 600 euro car and embarked on an ambitious learning road trip around Europe.
"I wanted to study how different societies function, how people live together and what makes people want to live together. At the same time I was helping out in refugee camps, volunteering for the Red Cross and other organizations."
What an amazing journey! Speaking of which, tell us about 'Sarah's Journey'
"Based on all my research and everything I had learned throughout my own journey; I created Sarah – a fictional 8 year old super hero character with a universal and friendly name. I was literally working on the content day and night for about 20 months and in order to make sure I got everything right; I started building a network of experts that became a part of the creation of the book. That network now consist of over 50 scientists, subject matter experts and artists around the world."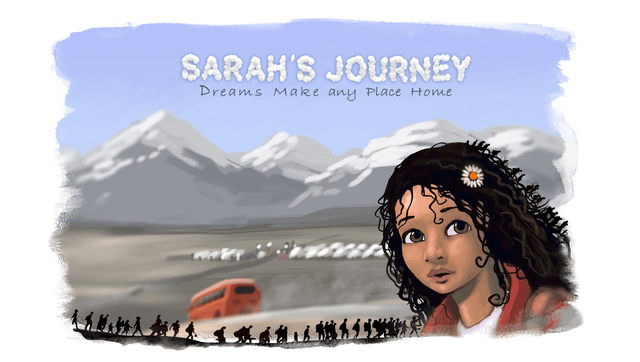 In the book, which is now available as a hardcover illustrated book, Sarah goes through hardships and loses friends, but along the way Sarah is still able to find happiness. Through the help from various good powers Sarah 'wins the game' and makes her dreams come true.
"I also made sure that there is absolutely nothing in the book that children can be frightened by, which may sound strange considering the topic of the book."
'Sarah's Journey' – not just for refugee children 
Imad explains that in 'Sarah's Journey' there are no names of places, no specific ethnicities, no specific time – which makes the book a timeless, epic adventure suitable for children all around the world. The book is also not just suitable for children who have experienced the atrocities of war and the trauma of being refugees – it is also suitable for children in peaceful countries to explain what is happening in the world around them and tell the story of less fortunate children.
The first edition of the book is printed and it looks beautiful but what is your ultimate goal?
"The ultimate goal would be to put Sarah's story in the hands of every child in the world and through the help of crowdfunding and book sales, we can finance other activities to help children all around the world", Imad says with great enthusiasm.
"Simultaneously we are also working on a 'Dream Hub', a platform where kids can take pictures of their dreams and ideas and share them with kids all around the world. Through the power of technology and auto-translation, we'll help the kids communicate with each other on a safe platform, regardless of their native language", Imad continues.
Last question: How can people reading this help refugee children and contribute to this great cause?
"That's a great last question. The Kickstarter campaign that we are currently running is aimed at creating impact. The best way to contribute is to order a book as a Christmas present for someone or donate books to refugee kids through the Kickstarter page. If you donate an additional amount, we use that money to print even more books for refugee kids."
Thank you, Imad for sharing your amazing story and best of luck!
Watch this video about the 'Sarah's Journey' book project:
To wrap this up (like a thoughtful Christmas present):
We at Digital Mic Drop are blown away by Imad's story and hope that his story has inspired you to help some of the 30 million refugee kids in need. To give 'Sarah's Journey' the exposure is deserves, check out the Kickstarter campaign through this link, order or gift a book to someone, donate one or many copies to refugee children and get a donation certificate that you can gift to friends and family for Christmas - and if you found this interview inspiring – please share it with your friends.