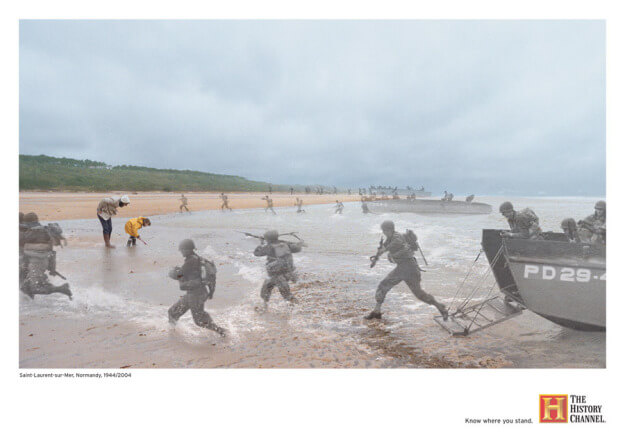 The History Channel commissioned award-winning photographer Seth Taras to create a worldwide campaign where the goal was to "Motivate people to understand the history of where they live by watching the History Channel."
Taras traveled around the world to historic sites where he set up his tripod and camera in the exact same place with the exact same angle as a number of iconic photos. Taras then merged his present day photos with the historic original and the result was a series of gripping, thought-provoking photos.
The 'Know where you stand' photos earned Taras a Cannes Gold Lion and the campaign was translated into 30 languages and published in no less than 130 countries.
In the photo above, a mother and a child are casually enjoying the quiet beaches of Normandy, France whilst at the same time - a ghostly snapshot of an allied army invasion company during D-day in 1944.
In this photo from Paris, France, a couple is chilling in front of the Eiffel Tower, not knowing that Adolf Hitler posed for a photo in the exact same place in 1940 when German troops had rolled into Paris during the occupation of France:
In this next photo, a man is walking his dog in Lakehurst, New Jersey, United States and in the background - a haunting photo from the Hindenburg zeppelin disaster:
In this last photo, a present day businessman is speaking on his mobile phone at iconic Brandenburg square and behind him - one of the last photos of the Berlin wall before it was torn down in 1989:
So, the next time you are traveling the world, visiting landmark places - take a moment to think about who may have been standing in the exact spot as you, way back when.