We are marketers, we get it. Sometimes you don't need all the fluff and all the background info. Sometimes you just need someone to tell you how to do that thing you need to do in simple, straight forward terms so that you can get it done.
That's why we are introducing our 5 Minute Marketing tutorials.
This upcoming series of short and sweet tutorials will cover all kinds of digital marketing doodads that can be set up/launched/created/pushed-out-the-door in 5 minutes or less.
Because let's face it: We're all busy and sometimes 5 minutes is all you've got before someone walks through your door and ask you for 2 minutes of your time.
In our first 5 Minute Marketing tutorial, we'll show you how to set up a sponsored post on Facebook.  Let's do this.
How to set up a sponsored post on Facebook in 5 minutes or less
First of all, what is a sponsored post on Facebook?
Any post created by a page admin on your company or organizations Facebook page can be 'boosted' to become a sponsored post. By adding a budget and targeting, your post will become visible for a bigger, preselected audience and outside of your own network of followers.
Facebook offers many different types of advertising, but in this tutorial, we are zooming in on the sponsored post option.
Difficulty: Easy peasy lemon squeezy
Here's how it's done in a few simple steps:
Start by going to your company's Facebook profile page, in our case, facebook.com/digitalmicdrop/. Oh, and in order to manage your page and set up a sponsored post, you need to be an admin on your page.As our post about 10 free learning resources for digital marketing has only reached 67 people organically (unpaid) on Facebook, sponsoring it is a good way to give it a lot more visibility in front of relevant people.
Getting started with your Facebook sponsored post
To get started with setting up your sponsored campaign, hit the 'Boost Post' button underneath the post. A popup will appear and open up Facebook's ad management tool where you will set up your targeting (which essentially means selecting who you would like to show your ad to.)Once the campaign is live, your post will appear in your chosen target audience's newsfeeds on Facebook like any other update, the only difference is that is will have a 'Sponsored' label.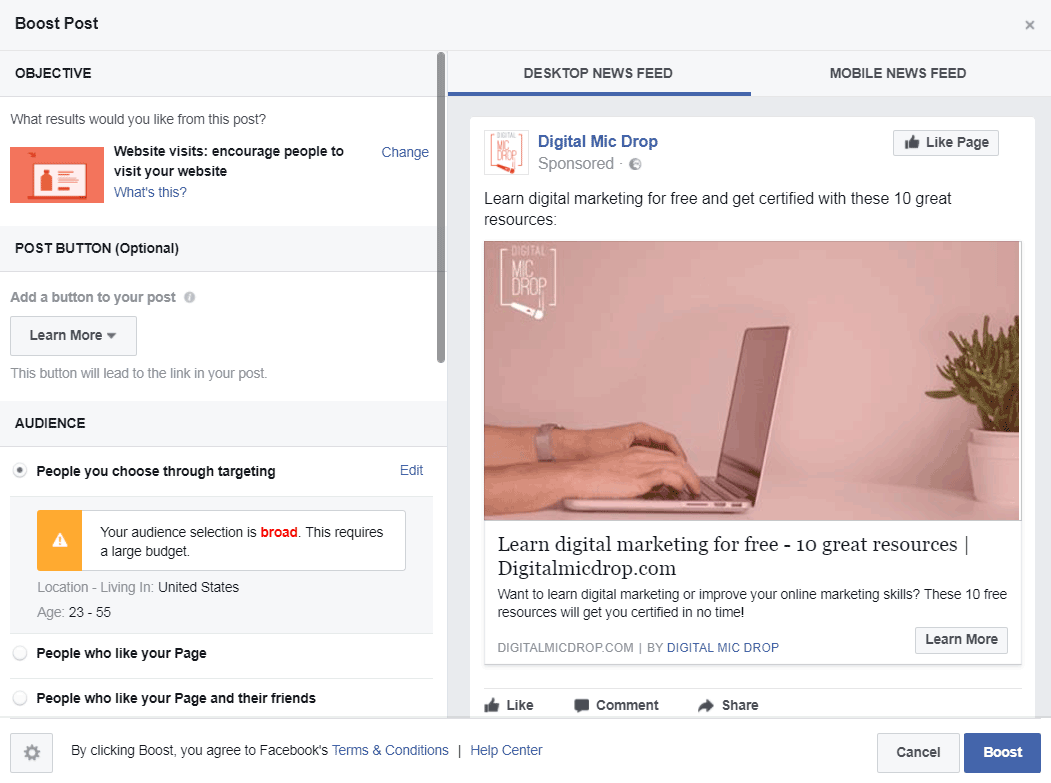 As you will notice, a notification on the screenshot above says 'Your audience selection is broad. This requires a large budget'.That is because the current audience we have chosen is basically every Facebook user in the United States that are between 23-55 years old. We love Americans, but that's too many and the targeting is way too broad. Let's narrow it down.
Narrowing down and choosing your audience
For this particular sponsored post, we would like to reach out to marketing professionals or people with an interest in areas marketing, digital marketing, and social media. Therefore, we'll start by choosing the first option: People you choose through targeting.We could also choose to show the sponsored post to more of the people who currently like the Digital Mic Drop Facebook page (our followers) or our followers and their networks of friends, but we'll save that for a different post.
Next up:
Hit the 'Edit' button next to 'People you choose through targeting'. A new popup will appear and you will be able to choose your desired audience.In order to find a suitable audience, we'll add keywords to our campaign, which Facebook will then match up with the demographics, interests and behavior data they have collected from their many, many users.The targeting keywords can, of course, include pretty much anything, but for this example, we'll be targeting marketing folk (because that's what Digital Mic Drop is all about.)

Since about 30% of the world's population are Facebook users, the targeting possibilities are next to endless. You can get visibility in front of people all over the world and people of almost all ages and all professions. If you would like to target your campaign specifically to engineers who love ComicCon and collect stamps as a hobby, you go for it!

Anyway, moving on. If we keep the country (US) and age bracket (23-55) and only add 'Digital Marketing' as an interest to the keyword field, we'll get a total audience of about 31 million users. Feels like a lot, so let's narrow it down some more. Let's throw 'Marketing' and 'Social Media' as job titles into the mix as well.

By doing that, not only will our ad be more targeted, we'll also increase our chances of getting visibility in front of people who have both an interest in learning more about digital marketing and already work with marketing or social media of some sort.

Now our potential reach is just over 1 million people and Facebook's little meter says that our audience selection is Great. Perfect!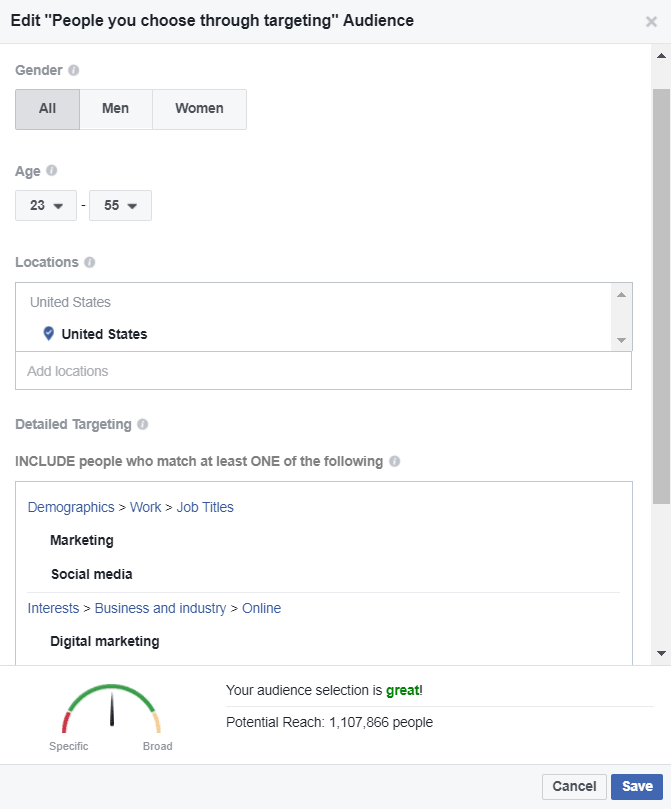 Setting your budget
The last thing we need to do before our sponsored Facebook post is ready to meet our lucky digital marketing audience is to set a Budget and Duration for the campaign.A good approach to this is to pick a fairly low budget first and if needed, go back to the ad management tool and add more budget. For this campaign, we're starting out with 200 SEK (since we are based in Sweden, our currency is set to SEK), which is about $25 USD.With a budget that low, our estimated reach is only 2,500-6,600 people, but hey, the budget can be increased once you know that you are hitting the right audience and that you are getting traffic.
As for payment method, go ahead and add your credit card details. Don't worry, it's safe.
When you are ready, hit 'Boost' and your sponsored campaign will go live pretty much straight away. Boom. Done.
A few more things:
It's good to keep a close eye on the campaign for the first day or so, just to make sure it works as expected and that you are getting engagement (likes, clicks or share) and traffic from users with the right background. If not, revisit your campaign and adjust the targeting.
To track your sponsored post, simply click on 'Insights' next to Page, Inbox and Notifications on your Facebook page management top navigation and you'll be able to find stats for both organic (unpaid) and sponsored views and engagements.
Oh and another good thing to know is that Facebook's ad management tool works really well on mobile devices as well, so you can both edit your campaign and add additional sponsoring when you are on the move.
Good luck!