To those of you who can't get enough of what's going down in the 'Upside Down' (see what we did there?) - don't fret. The highly anticipated second season of 'Stranger Things' is now out on Netflix. But you probably knew that already.
What you may not know is that Netflix has partnered with Snapchat to create a first-of-its-kind augmented reality (AR) user experience, just for you. Think Pokémon Go but way creepier.
Augmented reality 'World Lens'
With a little help from the latest technology, Netflix and Snapchat have created an augmented reality 'Word Lens' where users can step into Joyce Byers' famed and mega-creepy living room.
In this virtual space, users can interact with visible and hidden items, portal directly to the Upside Down (a parallel universe that the plot of the show is built around) version of the living room as well as take a peek out in the 'real world'. Pretty cool, if you ask us!
As an added bonus, Snapchat also created a filter which will add Eleven's, one of the main characters, characteristic nose blood to pictures. (Yuck!)
Check it out here:
Considering the overwhelming success Pokémon Go had with their AR app game and the fact that Facebook, Google and others are making virtual reality a mainstream commodity, it's probably safe to say that we'll be seeing more AR apps in digital marketing campaigns like this one in the near future.
AR now also in far less sinister living rooms. Like yours.
Speaking of living rooms - our wonderfully creative friends in the IKEA marketing team have whipped up a nifty little AR app of their own. 'IKEA Place' lets you browse over 2,000  products and virtually 'place' them in your home to help you visualize if the couch you are considering will mesh well with your existing coffee table and those striped curtains. No more buying, bringing home, Allen key frustration and then the couch is too big or too dark. Those days are gone.
From iTunes:
"The app includes 3D and true-to-scale models of everything from sofas and armchairs to footstools and coffee tables. IKEA Place gives you an accurate impression of the furniture's size, design, and functionality in your home so you can stop wondering and start doing."
Could the future of digital marketing be augmented reality?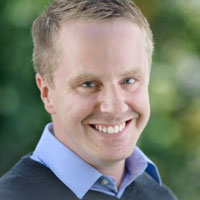 You've just read an article by Peter Helin. Now it's your turn! Leave your comments below.
Peter Helin is the co-founder of Digital Mic Drop as well as a multi-disciplinary marketer. Peter juggles most of the content that you'll find here on Digital Mic Drop and he is also helping Digital Mic Drop's enterprise clients to success through consultation on all things digital marketing, copywriting, content creation and SEO projects. Things like that.
If you would like to get in touch, simply shoot him an email on [email protected]